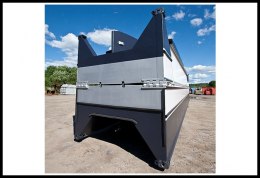 The Rivertrotter concept in general
A square shaped boat that folds its stern and bow upwards will adopt measurements of standard ocean shipping containers. This will make transport and handling of the boat very efficient as container handling can be done all over the world at predictable, low cost.
The innovative way of transforming the boat to shipping container size is patented by Alve Henricson, and marketed under the name RivertrotterTM.
The RivertrotterTM platforms come in two sizes, two materials and three hull shapes. Sizes are 40 ft and 20 ft standard ocean shipping containers in transport mode. Materials are either steel or aluminum with a few options of qualities and strength. The hulls are somewhat different for the three types of floating vessels offered. The two boat versions are equipped with an inboard motor to give the boat its ability to move through the water. The power boat version has a fast, planing hull and reaches speeds up to 30 knots. The low power boat has a displacement hull and reaches speeds up to 8 knots. A barge has no motor, and is designed to normally be moored in one place. The barges have an outboard fitting to give them temporary ability to move through the water without the need for a towing boat.
Note that all constructions are designed to be placed directly on firm ground like a normal shipping container. The propeller on the boat types is entirely above the ground and protected in the tunnel. Adjustable support legs will keep the box in level if placed on uneven or slandted ground.
The vessels described below are examples of designs, and can be modified to customer needs.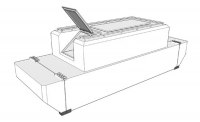 RivertrotterTM barge, floating 20 ft standard ocean shipping container
The barge has no motor and has a hull designed for stability when moored on one location. It is normally pushed or towed in place by another boat. It has a bracket for mounting a small standard outboard motor to make its way through water when no towing boat is available. A high strength steel construction weighs about 5 tons. All designs have a large rooftop hatch that opens fully, to load and unload equipment or patients in a stretcher.
.
RivertrotterTM boat, motorized 40 ft standard ocean shipping container
The 40 ft boat is equipped with a 100 hp motor that gives a cruizing speed of 7 knots. The interiour space is large and gives room for specialised equipment even when power generator, desalination water plant and other "live-on-board" necessities are installed.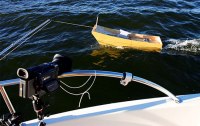 RivertrotterTM High speed planing boat, 20 ft standard ocean shipping container
The high speed utility boat has a calculated speed of about 30 knots, and is well suited for patrolling and for person transport. It also has good pushing and towing power and can be used for handling and arranging barges and pontoons in water. The propeller is well protected in the tunnel which gives the boat the ability to securely make its way in polluted water with floating debris and obstacles.
.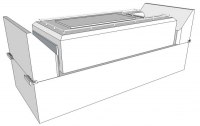 Air freight ULD, 20 ft M-2 box
Air freight cargo container with code AGA, class M-2 has identical footprint measures as the standard 20 foot ocean shipping container. This construction is 8 feet high in shipping mode and the maximum weight of box and equipment is limited to 11340 kg. This floating unit is built in aluminium to reduce weight, and is normally equipped with a small outboard motor to make its way in water.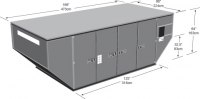 Non-folding, standard ocean and air freight containers
Where less space and load is required, the box can be a regular 10 foot ocean container. If a floating, watertight construction is desired, the box can be built to standard air freight ULD measures, e.g. an LD6, which can be loaded in regular cargo hold on most large aircraft types, including 747, 777, and Airbus. The picture shows the size of an AMF container that has a load limit of 5000 kg.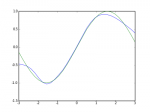 General basic components
An electrical power handling system is normally needed in all platforms. The system is similar to what is found on large marine yachts and is designed to handle power from many sources. Power feed can be any of 12 V DC, 24 V DC, minus 48 V DC, nominal 110 V at 60 Hz and 230 VAC at 50 Hz with large variations. With backup batteries and regenerating of the alternating curve, the system provides stable and well adjusted power of any nominal standard.